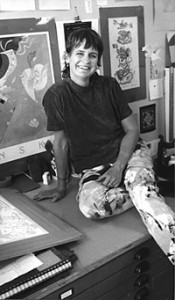 is a practice. I have been making art since I was seven.  I have always known that seeing pictures is a way for me to understand and collect my world. I began in 1970 on the East Coast producing a line of hand made block printed cards. I moved in 1975 to the West Coast where I supported myself for 25 years as an artist.  In 2000, I returned to New England to begin anew.
I often work in sets and gather that which interests me inside a structure of rules. Window Painting was a technique I invented in 1990 as I moved from block printing to painting.
My palette was influenced by growing up on the islands of Jamaica and Puerto Rico as a child.
I have collected here the images from multiple shows I produced on both coasts. In a show "Which Hat Over What Fence? October 2012, I affirmed my understanding that being artist is a declaration. I say it, so I am.
Kay Curtis lives in Brattleboro, Vermont where she divides her time between art, children and advocacy.
NEXT SHOWS:
January 2017
Showing 4 gouache and India ink works from Which Hat Over What Fence.
March 2017
Exhibit: A Time to Show! River Gallery School, Brattleboro, VT
May/June 2017
Exhibit: Queen Anne's Lace: The Circle Is Coming Around. West Village Meetinghouse, Brattleboro, VT
Ongoing
25 Works Yve Gallery, New Orleans, LA